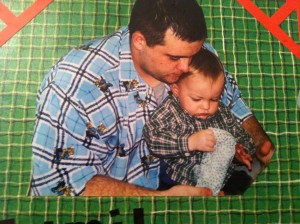 The death of my brother affects me every single day of my life especially when I'm alone with my thoughts. "They" say it gets better but it doesn't get better you just don't dwell on it every single second of the day like you did in the beginning. At some point, you are able to push it towards the back of your mind but the pain is still there waiting to be exposed at slightest thought of you.
For example how the mind wanders. We moved and I thought of all the people who would stop in now that we are closer to town. This made me think of the days when my brother used to stop in every night after work at our first house in town. This made me sad to think that he didn't do that when we moved to the country. Then I thought, maybe if we had lived in town and he had us to come visit he wouldn't have resorted to drugs. Then I feel guilty and sad. Then I cry as I try to push something else into my brain so the tears will stop.
Someone talks about their adult brother. I automatically think of the brother I don't have.
I watch the television show "King of Queens." I think of the times my brother would stop over after work and we would watch it together and laugh. The big guy "Doug" is kind of goofy like my brother was which is why I think he liked the show so much. He would talk about the funny parts in this show all of the time.
Someone says the word brother and I think of you.
I drive by your grave and I think of you.
I see your obituary hanging on my refrigerator and I think of you.
I eat Doritos and I think of how we used to fight and fight and fight over the bag when we were little.
I open a can of beans and I remember how much you hated beans.
I open a can of tomato paste and I think of the time you cut your finger on a can in a kitchen growing up.
I see a daschund dog and I think of how much you loved our dog Chelsea.
I think of you more than you will ever know. I hate myself for thinking of you more now than I did before you died. I should have been a better sister. I should have not took for granted the time we had together thinking that there would always be more time….