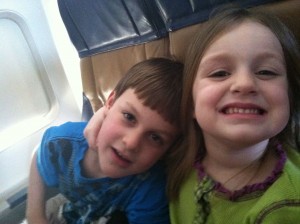 After the big announcement on the day of the trip, we headed to the airport. Eli tells me he is afraid to fly and doesn't want to go. I assure him it is very safe to fly and he flew once when he was around two years old. He knew we were planning on flying to Arizona in a few weeks but this was the first I've heard of his fears. He goes on and on about crashing, I'm sure loud enough for other passengers to hear.
Hey, I won't lie, I get a little nervous flying too. My rational brain tells me statistically it is much safer to fly but there is something about being thousand of feet in the air with no control that makes me say my prayers before take off! It seems like the more I fly, the less nervous I get so that is a good sign.
As we were boarding, I mentioned that the little guy was a little scared to fly. What happened next was really cool and one of the many reasons I love to fly Southwest Airlines. The flight attendant asked if they wanted to see the Pilots and allowed them to visit with them for a minute where they were given wings. This seemed to ease Eli's nervousness about getting in the air a little!
Sofia on the other hand only cared about the snacks. Asking me numerous times when the snacks would be there. I think she was disappointed we didn't get cookies.
The kids did fabulous on the plane! Even sitting next to each other and NOT fighting. Unfortunately, things wouldn't stay this good the entire trip. The good news is on the flight home, Eli announced he had "overcome his fear of flying."
Stay tuned for more post as it was an adventure filled week – one that took me someplace I never thought I'd go nor can you pay to go, magical meltdowns, vegetarian meals, and of course, the actual conference.
Disclosure: I paid to attend the Disney Social Media Conference. In return, I received highly discounted park tickets, hotel, and a gift bag. There was no monetary compensation or posts required in exchange for this package.