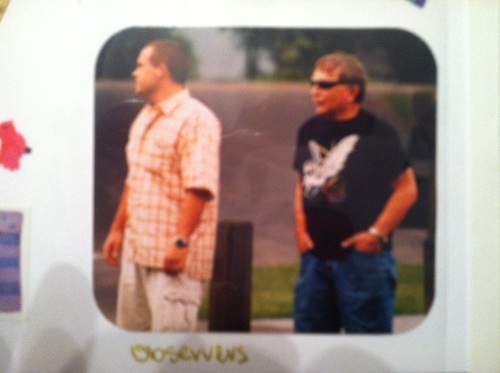 If you knew this guy (Tom Turkey, Uncle Tom, Tommy, Tommy T, Get 'er done Tom, perhaps a few that we won't name, and to me – Grandpa Tom)…you would know how great of a guy he was! Always the entertainer, willing to help anyone out who needed it without asking for anything in return, he was a friend to those who had no friends, he was a hard worker, and all around cool guy to hang out. As young kids, Tabitha, Billie, and I spent a lot of time as the oldest grandchildren at grandpa and grandma's house. We lived close enough that we could ride our bikes over there as we got older.
These are some of the best childhood memories.
I'm actually surprised we survived some of the things we were allowed to do! "Oh, Nan, let them have their fun," he would say! Even if it meant jumping off the roof into the pool or working on some kind of mechanical thing that we were clearly not qualified to operate or whatever the case may be (though, I'm not sure I ever really did that one!)
Some of our fun activities: Spray painting, mowing (while he supervised the activity the entire time!), driving the duster down the runway way before we had driver's licenses, playing in the camper, creating our own garden in the greenhouse, playing in the shop, cleaning the shop, cleaning the duster, looking at his airplane, discussing all the conspiracy theories, and so many many more!
So many Grandpa Tom stories where he helped someone out or said something that made you laugh….as I have received so many of them in my inbox, Facebook, and via text. He was one of those unique characters that comes around once in a lifetime. Anyone who met him, always remembered him. He loved entertaining us, even during these past final days.
Our family is not the most expressive family about our feelings as often you would go in for a hug and either get a handshake or a pat on the head but we knew that grandpa loved us and cared about us because he wanted to spend time with us and teach us how to do things (right). He used to always call me on my birthday…he called me using my extension at work several times to talk to me about things all on his own – which completely surprised me, and was a regular visitor at the office – though, he didn't mind if you were in the middle of a business meeting or a phone call! 🙂 He was often the winner of the JA award (those of you in the family know what that stands for!) but he always kept life interesting for those around him.
After all the years of helping everyone else without asking for anything in return, we were finally able to help him the final weeks of his life.  He was very appreciative of the all help and allowed us to help him when he was unable…and really we all felt so helpless.(A tommism – We? What do you mean we. You got a mouse in your pocket!) When I think back on that time and the past few years in general, it has  shown me how important family is and I'm lucky to be part of such a close, loving, and fun family.
I will miss him dearly and things do not seem quite right without him telling us how to do something the "right" way! A few more Tommyisms:
So what do you think, Bri?
Get 'er done.
Watch, watch. We?
You got a mouse in your pocket.
We'll get 'er.
<insert anything> DOT COM
Ah, we will finish it tomorrow.