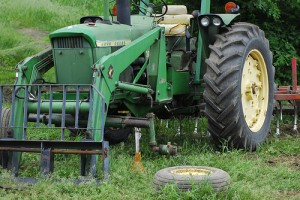 "Start Your Tractors."
The chant from the Guerin fans near the end of a high school sectional championship game.
Is this an insult to Tipton County?
Agriculture is an integral part of Tipton County life. Our county ranks first in the state of Indiana as having the highest percentage of prime farmland acreage, and therefore, agriculture represents the largest single land use in the county. It is on this land that not only the highest yields per acre in Indiana are produced, but also some of the top yields in the nation. We have consistently ranked among the leading counties for our impressive return in the production of corn, soybeans and wheat in Indiana. Source: Tipton County Ag Business
Today, much of Tipton County is still rural farmland. We are proud of farmers in Tipton County. They are hard workers with values. This is your insult? Really?
Tipton County is still mostly farmland . At one time, Hamilton County, was mostly farmland, right? Now it is filled with housing division after housing division, strip malls, and traffic. We love our farmland in Tipton.
My retort would have been: "Start your daddy's Mercedes." But I wouldn't because that has nothing to do with the actual game being played. Maybe, an "airball" or a "you got swatted" or even an "overrated." But why insult the tractors?
I'm not sure there was even a player from a farming family on the team. All the boys I can think of are "city boys."
Onto the actual game.
Guerin is a good team, don't get me wrong. They played hard and tough. They had impressive three point shooters. Really, I was impressed. Not surprised because we watched them come back from at least a ten point deficit against Madison Grant.  I knew they would bring the three point ball on Saturday.
We started the game out hot and then somewhere during the first half went cold. Everytime we started to get fired back up again, we would be brought back down by a shrug your shoulders foul.
You do have to question it. The foul situation that is. Tipton was called for almost twice as many fouls as Guerin. (Tipton 25, Guerin 14) Let me tell ya it was a physically game. It just wasn't as one sided as those stats are portraying. I'm browsing the stats for the other games in our area and the foul situation for almost every other sectional championship game is very even. It seemed these one particular referring squad we had the entire sectional game really had it out for us.
In these types of situations, it can mess with your psyche. If one team is allowed to play a more physical game and the other is not, it can affect the outcome of the game. I'm not making excuses, I'm sure we could have played a better game but you have to take this into account.
It was an exciting, entertaining season. Indiana high school basketball is inexpensive entertainment and excitement.
Tipton loses only two seniors, including a Ohio University bound Ethan Jacobs. We will come back strong with a great line up of seniors.
Oh, and Greg Dickey, Sofia still thinks you are the "awesomest"!